The Randolph Caldecott Medal is an annual award that honors the best illustrations in a book or novel (usually books, novels are rarely honored). I have decided to start a project where I attempt to review the honorees in a given year and give my opinion as to whether the right book won or not. 
This year I am going to review the SIX books that were recognized in 1957.
Gillespie and the Guards (by Benjamin Elkin, illustrated by James Daugherty)
This is a cute little book about a little boy who tricks royal guards who supposedly have really supersonic eyesight. Not gonna lie, I had never heard this legend before so the "big reveal" at the end caught me by surprise (a little bit. I am 23 after all). I also really liked this book because it pays homage to the oral tradition with the use of repetition throughout the book. I read some sections of this book aloud and I was entertained, and I think little kids would be. The illustrations definitely show effort. The pictures are mostly lifelike (yet statuesque) with a lot of motion (sort of like a Stephen Gammell illustration). I'm not sure if modern kids would enjoy the pictures but I think they're OK. I definitely enjoyed this more than I thought I would.
7/10
Lion (by William Pene du Bois)
I have to say, I really enjoyed this book as well. The story takes place in a factory above the clouds where angelic artists create animals by drawing them and naming them. The head artist is named Foreman. With the help of the other artists, he creates a lion. The funny part is that the design goes from a small feathery, colorful bird-like creature that goes "PEEP PEEP" to the standard, golden big lion that roars. It's a very clever and humorous books that has great dialogue and very nice drawings that skillfully uses color. A nice spin on the "Adam and Eve" story if I do say so myself!
8/10
Mister Penny's Race Horse (by Marie Hall Ets)
Something I appreciate about older picture books is that they have a lot of text and tell really satisfying stories that children can read over and over again. Sometimes I think modern picture books are a bit too simplistic. However, this book could have benefitted from some editing. This book is about Mr. Penny and his old horse named "Limpy," and how he becomes the talk of the fair by becoming a race horse (so, yeah, like the title said.) This book is so unnecessarily long. Literally 57% of the text could have been cut. The story itself is fairly simple…it's just filled with too many unnecessary and uninteresting details…and I was kind of bored reading it. The pictures are OK. They look like wood cuts. I think the horse racing pictures towards the end are the best (along with the panel where Mr. Penny is trying to clean his stubborn pig). Overall, I don't think this book would excite too many kids today.
4/10
Anatole (by Eve Titus, illustrated by Paul Galdone)
This book is about a mouse who, in order to support his family and help the human community, decides to become a cheese taste tester. His "deeds" allow the cheese shop to become successful and the mouse is able to have a better life. First, I really really liked the illustrations and the fact that Galdone only used "bleu, blanc, rouge." It was really well done. Did I like the story itself? After trudging through Mister Penny's Race Horse, I really appreciated the simplicity and restraint in the text…but a mouse becomes a cheese tester? That somehow helps the business? No one is concerned that some random person is coming into the shop, taking free cheese and rating it? I guess the 50's in Paris was a simpler time than now if this didn't bother anyone. I don't know. I'm overthinking it. This is a very popular series of books, but I wasn't digging the storyline. Ratatouille is better.
6/10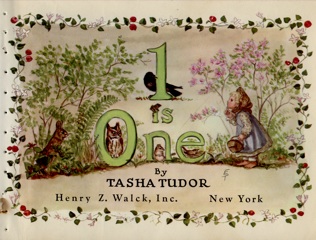 1 is One (by Tasha Tudor)
This is a very simple book that I think effectively teachers very early readers how to count and how to use those numbers (along with how to read). There are more modern books with jazzier illustrations that would probably interest children more…so I'm not sure how modern children would respond to the book. But, for the 50's, it's good. The illustrations are gentle, calm and old-fashioned. It was almost like watching an early Road to Avonlea episode. I didn't understand why every other picture was in black and white (besides for the publisher to save money on colored ink). But, otherwise, the book is what it is.
5/10
A Tree is Nice (by Janice May Udry, illustrated by Marc Simont) – 
CALDECOTT WINNER
This is an environmentally conscious book about why trees…are nice. Udry lists all the fun things one can do with trees and how trees make the world beautiful. In the end, she subtly encourages her readers to plant trees of their own. It's a nice, gentle book that definitely holds some relevance today. Once again, the illustrator/publisher does that thing when every other illustration is black and white – which seems more random (money saver) than conscious. The pictures are overall lovely, but they didn't wow me and are sort of forgettable. But again, it's a timeless book…even if it's not much of a "Dr. Seuss-sized" classic in 2014.
5/10
I can confidently say that A Tree is Nice did not deserve the Caldecott in 1957. The illustrations in Lion and Anatole were stronger, while the illustrations in Gillespie were more daring and interesting. The full sized tree drawings probably really impressed the judges that year but…Lion and Anatole used colors in more interesting ways. Oh well!
Thanks for reading. The next year I will be uncovering is…1997! Can't wait!